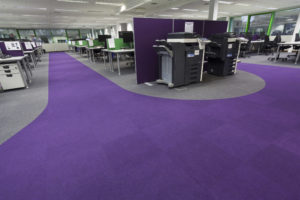 Here are just some of the reasons why Caughlans Commercial Floor Covering continues to lead the way in the world of commercial flooring and why so many clients choose us again and again.
Experience

We've dedicated many years to learn as much as we can about flooring. Our level of experience is invaluable when it comes to providing excellent advice.

Exceptional customer service

Caughlans close relationships and communication with suppliers, contractors and clients is a testament to how we work. We pride ourselves on exceptional teamwork and our professionalism gives all of our clients confidence that the job will be done right every time.

Quality

We source the best quality flooring supplies and products, which are superior, top quality materials rigorously tested for safety and durability. The quality of our workmanship will exceed your expectations. Caughlans ensures each installation is fitted to the highest standards.

Innovative

Flooring technology changes at a rapid pace and we make sure we're up to date on the latest product developments and innovations. In fact, Caughlans often calls for our suppliers and manufactures to develop pioneering solutions to continue improving the quality of our already exceptional materials.

Superb safety record

Caughlans is committed to maintaining the highest standards of health and safety. Getting the job done safely is essential and an important aspect of every job we do.

Reliable

Much of our work is acquired through recommendation. Our clients trust us to do a good job and recommend us to their business associates and partners. A referral is the best compliment anyone can give!

Sustainability

We strive to minimize our impact on the environment by reducing waste. We encourage our clients to choose sustainable products whenever possible and can provide environmentally friendly samples upon request.
Caughlans Commercial Floor Covering's management system ensures that we deliver highly detailed plans and tightly controlled projects, with nothing left to chance. If it's to do with flooring, you can count on us. As one of the area's leading flooring contractors, we can help you with everything from product, technical, environmental and specification advice for supply, installation and continuing maintenance.
Caughlans Commercial Floor Covering is here to help our clients achieve their commercial flooring goals. We cover every phase of the commercial flooring lifecycle, from subfloors to product selection and installation all the way through reclamation.
Project initiation and scope definition
Take off, estimation, and layout
Site evaluation
Site testing
Subfloor solutions
Moisture Mitigation
Materials procurement
Reclamation of existing materials
Materials receiving, warehousing, and delivery
Preparation of installers
IAQ compliance for sensitive healthcare and corporate environments
Installation
Site supervision
Job walk-through
Ongoing regularly scheduled maintenance
General contractors need timely bidding and experienced project management. Interior designers need specification services. Architects often need recommendations by flooring specialists to make certain they use the right product in the right application. We take the guesswork out of the flooring procurement & installation process, from start to finish. We handle the details to deliver a seamless solution to our clients.
Please contact a Caughlans Commercial Floor Covering representative and find out how we can find you the right flooring solution.